WATER PUMPS
Equipment hire in Cape Town
Water Pump Equipment for Hire
View our range of water pumps for hire that will help you get the job done! 
Specifications
Application: This specific water pump can pump solids(50mm) as in dirty muddy wa- ter. This is a self priming pump. Driven by a petrol engine it can pump up to 350 L/min
Dry running motor capability Wide passage for solids
Self priming from 7m in seconds Fuel: Unleaded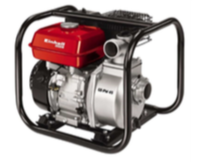 Specifications
Application: This water pump needs to be primed and cannot run dry. Only clean clear water can be pumped. Driven by petrol motor this pump can deliver
32 000 L/h.
Fuel consumption 2L/h Tank capacity 3.6L Weight 32Kg
Fuel: unleaded
Specifications
Application: The poker needle vibrates at frequency that releases air from concrete slabs before it sets. Petrol engine drives the poker needle.
Vibrator Head
Flexible Shaft (mm x m)
Diameter x Length. 45 x 505.       ᴓ12 x 6.0 Vibration per Minute (v.p.m) 9000-12500
Overall Weight (kg) 18.0
We provide the highest quality equipment for hire at the most affordable rates.