Electric Tools
Equipment hire in Cape Town
Electric Tools and Equipment for Hire
View our range of electric tools for hire that will help you get the job done!
Specifications
Application: Makita wall chaser offers the most effi- cient cutting of clean edged grooves for channels. Ergonomically designed handle for comfort. Conveniently located front cover efficiently prevents the dust from spreading, in every cutting depth. Double Insulation, Soft Start, Dust Collecting, Constant Speed.
Effective cutting length: 63cm Diagonal cut: 63 x 63 cm
Max cutting thickness: 20 mm Net weight: 9.2 kg
Specifications
  Application: Superior heavy duty motor with outstanding durability. Large trigger switch with a lever for lock–off and lock–on. Low vibration rear handle with soft grip for more comfort and control. Rotatable rear handle can be posi- tioned to suit most cutting and grinding operations. Protects work piece from scratches. Large rubber tool rest. Double Insulation, Torque Limiter, Soft Start and Carry Case. Tool does not come with depressed centre wheel.
Rating input: 2600 Watt Wheel Diameter: 230mm No load speed: 6600 rpm Weight: 6.7kg
Specifications
Application: Perfect for flush along side sanding. Labyrinth construction protects unit from sanding dust.. The front precision roller runs on centred brushes to give accurate belt alignment. The front auxiliary handle is specifically locate for fatigue free and sustained sanding. The externally accessi- ble brushes can be quickly exchanged when they become worn out. Double Insulation and Dust Collecting.
Rating input : 1040Watt Belt size 100 X 610mm Belt speed: 350m/min Weight 7.3Kg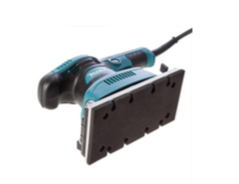 Specifications
Application: Electronic ignition. Double insulation for added safety. Rubberized soft grip  for comfort. Built in dust collection system cleaner operation. Increased motor power, less operator effort. Improved paper fixing, minimal down time between changes
Abrasive Paper Size: 93x228mm Pad Size: 92x185mm
Orbits per Minute: 11,000opm Strokes per Minute: 22,000spm Input wattage: 190w
Net Weight: 1.5kg
Specifications
Application: Generally all planes are used to flatten, reduce the thickness of, and impart a smooth surface to a rough piece of lumber or timber. Planing is also used to produce horizontal, vertical, or inclined flat surfaces on work pieces usually too large for shaping, where the integrity of the whole requires the same smooth surface. Special types of planes are designed to cut joints or decorative mouldings.
Rating power: 620 Watt Planing width: 82mm
Planing depth: 2.5mm / 9mm Weight 2.6Kg
Specifications
Application: The Skill 4900 reciprocating saw is the ideal tool for sawing branches and bushes, cutting holes in wood, demolition and many similar jobs. This powerful reciprocating saw gets the job done quickly and conveniently. Its 1050W motor makes tough jobs easy. The speed–dial wheel.
Effective cutting length: 63cm Diagonal cut: 63 x 63 cm
Max cutting thickness: 20 mm Net weight: 9.2 kg
Specifications
Application: Robust construction for consistently accurate cuts. Bevel cuts to 45 degrees left. Pivoting fence provides efficient support to stock. Double Insulation, Electric Brake, Bevel Cutting and Dust Collecting. With TCT Wood cutting blade.
10′′ blade with 5/8′′ arbor
Linear ball bearing slides
12′′ cutting capacity and 3–5/8′′ depth at 90°8–1/2′′ cutting capacity and 1–1/4′′ depth at 45°
13 amp motor with electric brake
4300 RPM no–load speed
Direct–drive motor, meaning none of the hassles associated with belt wear as in belt–driven saws
Weighs 20KG
Specifications
Application: A jigsaw is a saw which uses a reciprocating blade to cut irregular curves, such as stencilled designs, in wood, metal, or other materials. Today they are electrically powered and known as scroll saws, and have been largely displaced by portable power jigsaws. Toolless blade change system for fast insertion, blade ejection lever elimi- nates need to touch blade. Four orbitalaction settings provides dif-ferent blade strokes for smooth to aggressive cuts. Variable speed dial sets maximum speed and accelerator trigger controls operating speed. Large, sturdy diecast foot with steel insert and on–board bevel wrench. Precision–machined plunging system and low–vibration design for enhanced accuracy.
Power input : 220V Rating power: 720W Strokes per min: 800 Weight 2.5Kg
List of additional Electrical equipment
We provide only  the highest quality equipment for hire at the most affordable rates.