Compact & Concrete
Equipment hire in Cape Town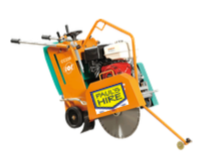 Specifications
Application: Push type Concrete or Ash Feld cutter used to cut expansion and contraction joints and edging off concrete slabs.
Engine power: 13 HP motor lubrication: Self watering Blade size: 350mm
Max cutting depth 120mm Fuel: Unleaded
Specifications
Application: This floor grinder is used to smooth concrete floors, remove resin or epoxy coatings and removing of paint. Wet or dry grinding process.
Engine power: 3 HP lubrication: Water or dry Blade size: 250mm Diamond Blade
Electric motor
Specifications
Application: The poker needle vibrates at frequency that releases air from concrete slabs before it sets. Petrol engine drives the poker needle.
Vibrator Head
Flexible Shaft (mm x m)
Diameter x Length. 45 x 505.       ᴓ12 x 6.0 Vibration per Minute (v.p.m) 9000-12500
Overall Weight (kg) 18.0